Painted with a broad brush, there are only a handful of things I really, really dislike in life.  Spiders.  Sitting in the last row of an airplane.  Halloween.  Peas.  And themed events. As life would have it, currently I find myself a spider slayer.  We were assigned to the last row of the plane on our flight into Naha.  And, I've just received an invitation to a themed dinner, and it is an invitation I will not refuse.
I find that the best costumes are imagined by those who are creative and are blessed with a sense of humor.  Indeed, I have friends who are artistic, free-spirited, and think-out-of-the-box types who would enjoy an evening of dress-up and character adaptation.  As for me, I don't know where to start.   Years ago, friends told me they would be dressing as President Bush and Dick Cheney for a costume party.  Even having been told in advance of their intention, my mouth went slack when I saw their costumes.  I wold never have thought of such a risque costume pairing.
As an adult, I have never been able to pull together a cohesive costume accurately reflecting my original intent.  Perhaps it's lack of interest.  Or lack of time.  Or lack of planning.  Regardless, my closest attempt to do so was when I dressed in a patchwork dress, wore a blonde wig, smeared some charcoal on my face and carried a broom.  A handful of people got it; I was proud as could be.
At my age, I understand that dressing for any event requires one to stay true to one's style.  So for this Roaring 20's party, no fringed flapper dress for me.  Rather, I'm committed to a beaded drop waist smoke colored dress; a long black glass bead necklace; and, a vintage inspired crystal headpiece.  I'm hopeful I will appear on-trend and not like a bride who has selected the wrong dress.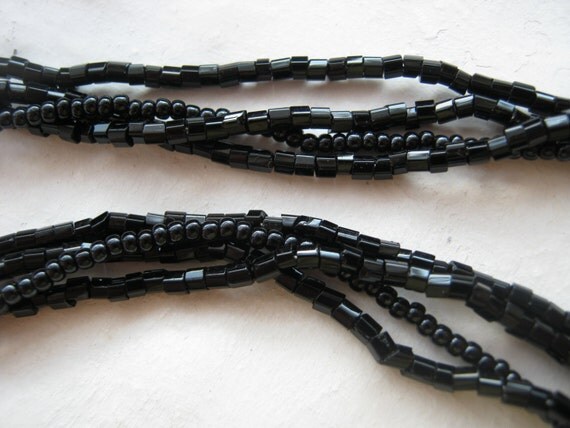 Shoes, stockings, earrings, and bracelets to be determined.
My dear creative and free-spirited readers–and you know who you are–what am I missing?